Combination and Dual Fuel BBQs
The convenience of gas with the traditional smoky taste of charcoal.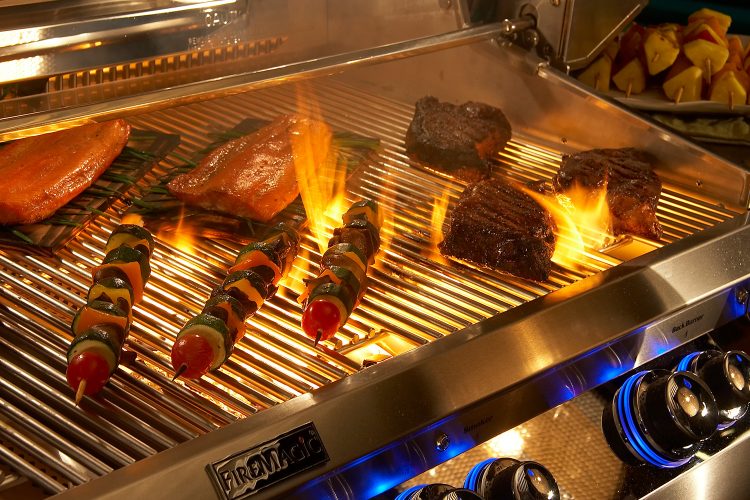 Fire Magic offer the ultimate dual fuel barbecues via their Aurora and Echelon ranges.
You can enjoy a charcoal cooking option for all of the barbecues in these ranges via a removable charcoal basket. Simply pop in the charcoal tray and use the gas burners to start the charcoal. The gas will bring the charcoal up to temperature and it will be ready to cook on within minutes. You can even cook on gas at the same time by using only one charcoal basket, thus leaving half of the gas burners open and creating a true dual fuel cooking experience.
Why choose a combination or dual fuel BBQ accessory?
Adaptability
The baskets are a separate accessory and can be removed or added with ease. Simply rest on top of the burners (but under the grill) when in use, and wait for them to cool before removing.
Flavouring
Many people believe charcoal gives an alternative flavour to food than cooking with gas, so the baskets are ideal for those who prefer this traditionally smoky taste.
Experience
Barbecuing on charcoal is an experience in itself. The turn of the food, the rising smoke, and the resulting meal, all offer a taste of childhood enjoyed by many.
Simplicity
The charcoal baskets are extremely well-designed, they even catch the ashes produced during cooking for easy clean-up when you've finished.
Cost-saving
The dual fuel adaptability is ideal for those who want to provide all options. Using the charcoal baskets, you still get the flexibility to operate your natural gas barbecue as a full charcoal barbecue, essentially giving you two barbecues in one.