Fire Magic Echelon Built-In BBQs for your Outdoor Kitchen
The Echelon Diamond Series BBQs are the pinnacle of the Fire Magic range and ideal for families and grilling enthusiasts who entertain on a regular basis. An Echelon series built-in BBQ is a wonderful addition to your outdoor living space or garden kitchen. Each Echelon series barbecue can be run on natural gas or propane gas, making the Echelon Series the ideal choice for the serious barbecue enthusiast.
Key Features
Find out more about the key features by clicking on the hotspots on the image below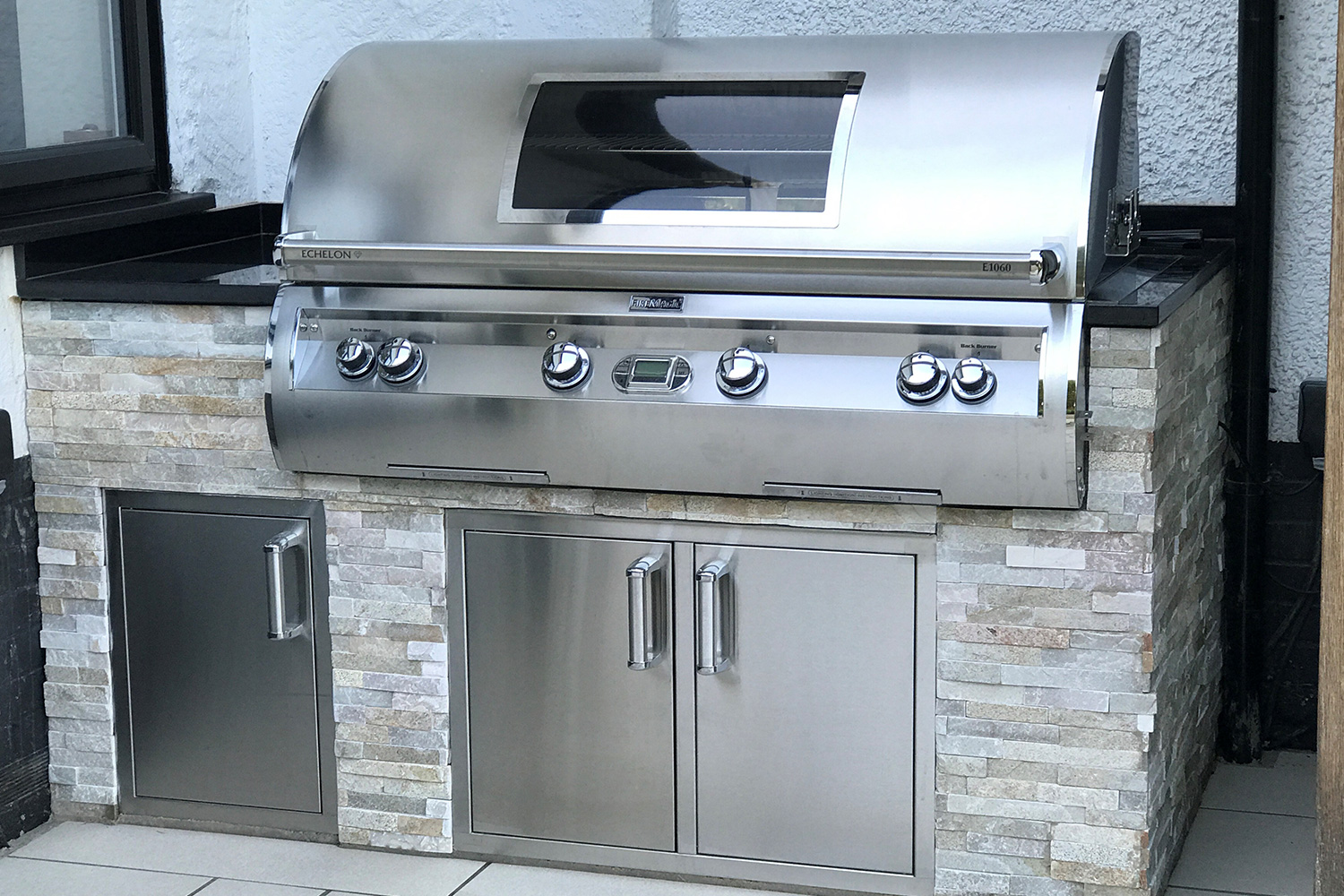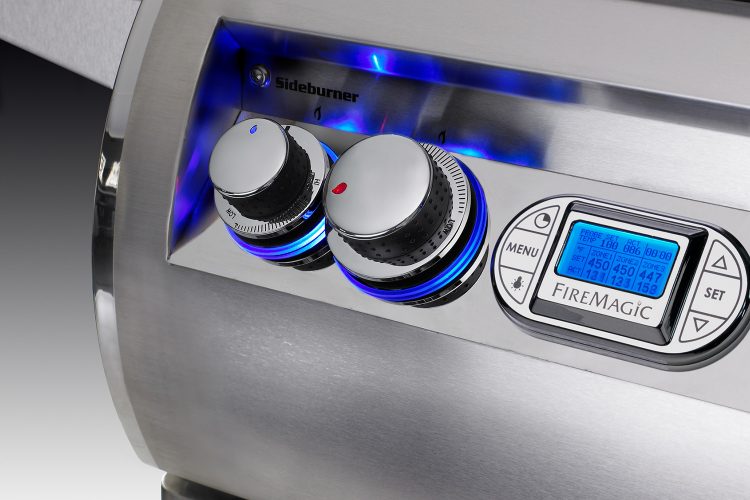 Contoured Face with Back-Lit Knobs
Smooth, seamless lines with polished highlights that feature fully illuminated, comfort touch safety control knobs.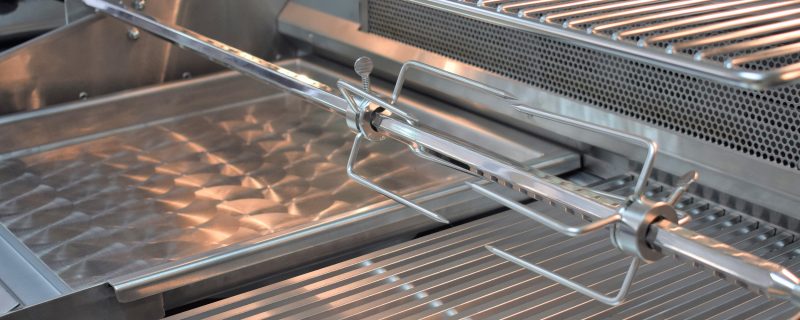 Rotisserie and Backburner
Sturdy rotisserie with powerful motor and counterweight for smooth rotation. The Fire Magic Echelon includes a quantum backburner with stainless steel foam for double the power and more evenly dispersed infrared heat.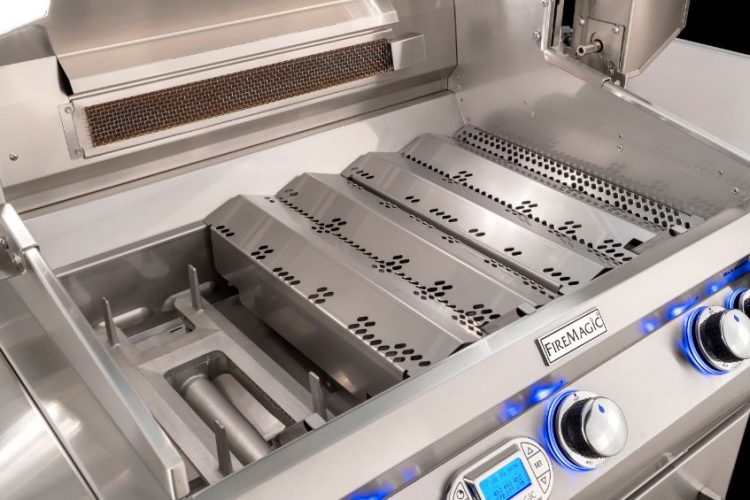 Zone Flavour Grids
The Zone Flavour Grids provide even heat and reduce flareups. Segmented for 'zone' cooking; allowing you to cook at different temperatures at the same time.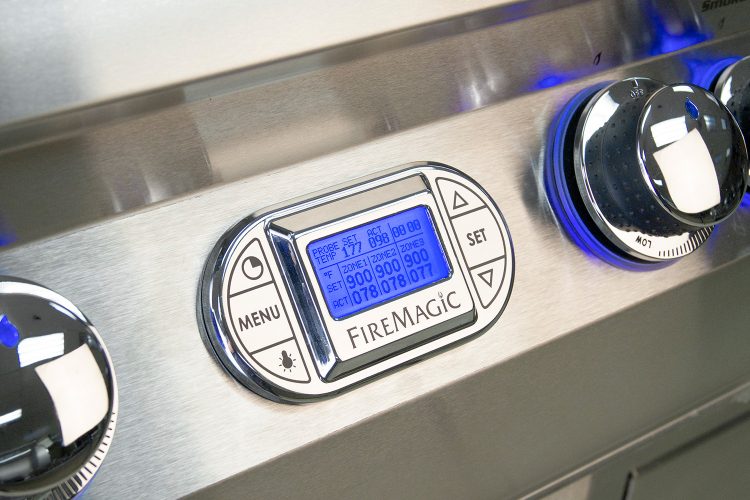 Digital Thermometer
Illuminated chrome digital thermometer with meat probe, timer and alarm settings for precise grilling.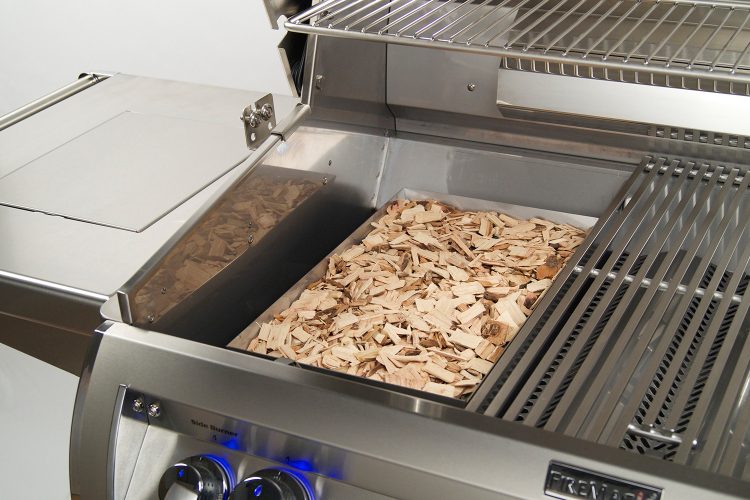 Charcoal/Smoker Basket
Included with all Echelon Diamond grills at no additional charge is our fantastic charcoal/smoker basket.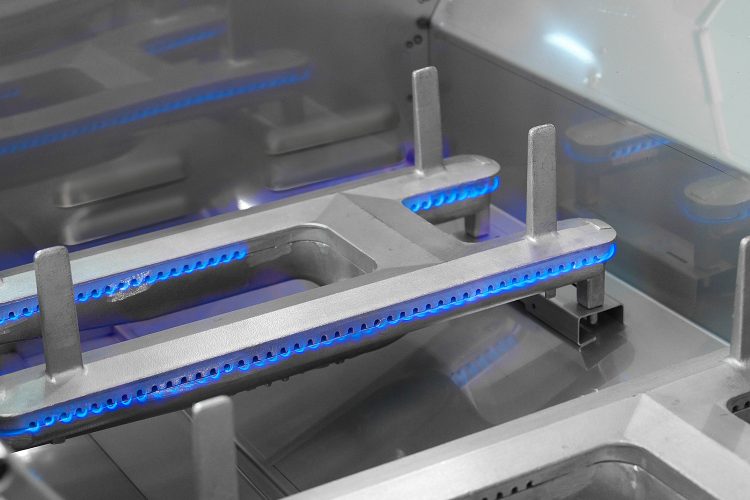 Cast Stainless Steel Burners
Thick cast stainless steel "E" burners for consistent, even heat and a lifetime of durability.
Echelon Built-In BBQ Highlights
Striking blue back-lit knobs and a unique contoured face are just the beginning with this outstanding BBQ series that is sheer grilling perfection. Once you see an Echelon Built-In BBQ you won't want anything else for your Outdoor Kitchen.
Dimensions and Power
Primary Cooking Surface: Up to 6813cm²
Main Burner Power: Up to 33kw
Backburner: Up to 6kw
Fire Magic Performance Promise
Hot surface ignition (requires 220 Volt AC power supply)
Cast stainless steel "E" burners
Diamond Sear Cooking Grids
Zone Flavour Grids
Integrated warming rack
Double-wall seamless hood with featherlight easy lift.
90 Degree Hood
Recessed rotisserie backburner(s) with super heavy-duty rotisserie kit
Built-in storage rack for rotisserie spit rod
Exclusive features to the Echelon
Angled halogen internal lights with auto-off switch when the hood is closed
Recessed infrared Quantum Backburner made of stainless steel foam
Chrome Digital Thermometer with separate meat probe
Complementary Charcoal Smoker Basket
Contoured Face with Back-lit Knobs
16-gauge stainless steel Flavour Grids
Upgrade Option
Magic View Window available via special order for all Echelon Diamond Grills
Fire Magic Echelon Built-In BBQs
Click on the model photo for more product information
Related resources
Be inspired with Fire Magic Outdoor Kitchens and view our latest brochure here. Use the Building In Plans to confirm cut out dimensions for all Fire Magic products.