Fire Magic Echelon Diamond Series Barbecues
The Fire Magic Echelon Diamond combines the very best of beauty, performance and innovation. Envision standing before the grill and grilling a mouth-watering selection of meat, seafood and vegetables, ready to entertain your guests and loved ones. Allow yourself the luxury of stepping outside to pop a whole chicken onto a rotisserie rod in your Echelon grill, the perfect supplement to a Sunday roast or grilled vegetable skewers fresh from the barbecue.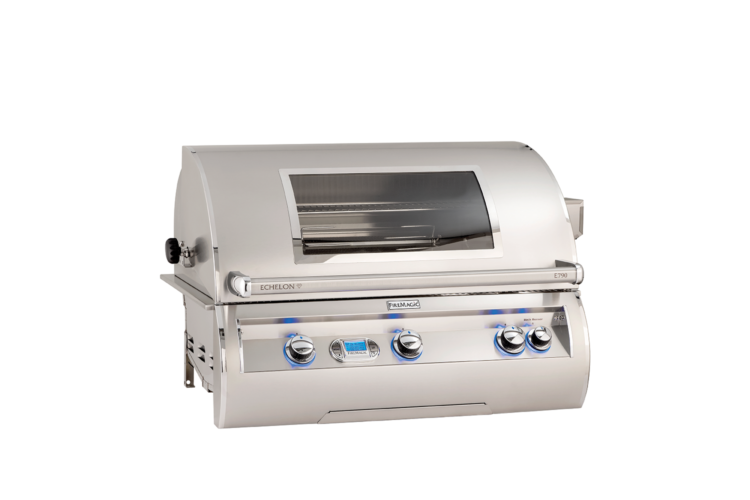 Echelon Barbecue Models
Our Echelon Diamond series is available as a built-in grill and a standalone cart. There are three different models available for the Echelon range:
Each model is available as a built-in option for an Outdoor Kitchen or can be placed anywhere you wish with our standalone cart collection.
Echelon Barbecue Features
The Echelon Series offers an unbeatable grilling experience and is guaranteed to deliver a powerful performance every time.  It is constructed out of heavy-duty 304 stainless steel and is recognisable from the rest of the Fire Magic grills with its sleek, contoured face. The features of Echelon grills include:
Heat Zone Separators that allow different zones of the grid to cook at different temperatures so you can cook different foods across the grill, and this can be controlled through the digital chrome thermometer and blue backlit knobs.
Create that delicious smoky barbecue flavour by vaporizing juices which turn to smoke with our flavour grids as they disperse heat quickly and evenly through the stainless steel, non-stick diamond sear cooking grids.
Each of our Echelon and Aurora grills includes a rotisserie option where you can evenly cook chicken, turkey, pork and more with our rotisserie rod. Additionally, the Echelon range features a quantum backburner with stainless steel foam for extra power and evenly dispersed heat.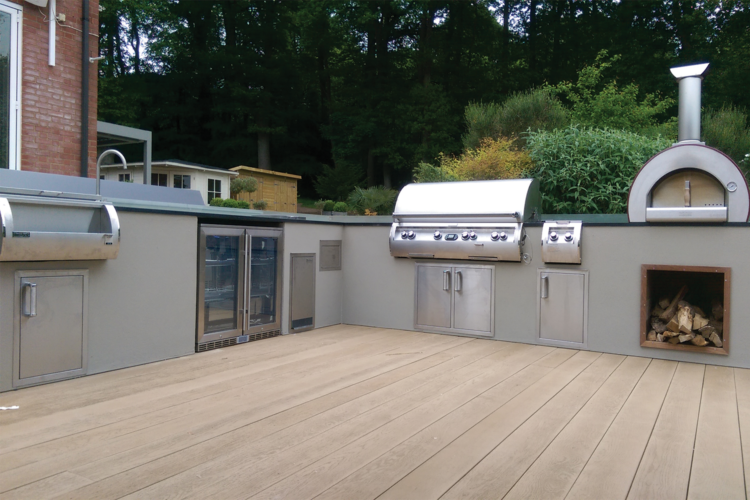 Outdoor Kitchen
Echelon grills are the ultimate choice for an Outdoor Kitchen and is the ideal solution for a premium outdoor entertaining space. The Echelon built in grills come in three different sizes, depending on whether you wish to cook for your immediate family or if you're looking to entertain a large number of guests.
Pair an Echelon with Fire Magic's premium collection of stainless-steel built-in components, from doors, drawers to side burners, our range includes everything you need to create the Outdoor Kitchen of your dreams.
We have many years' experience of designing and creating customers their ideal Outdoor Kitchens and can advise you on which of our premium Echelon grill's best fulfils your needs. For assistance, call our dedicated team on 01732 905400.