Outdoor Kitchens
Picture yourself hosting guests in your outdoor space, serving them freshly cooked food from the grill and pouring perfectly chilled beverages into glasses on your countertop. Enjoy your morning cup of coffee outdoors on warm sunny mornings as you cook you and your loved ones a breakfast on a luxurious Fire Magic barbecue.
We have been designing Outdoor Kitchens for over ten years and have a wealth of experience, in creating Outdoor Kitchens that are tailored to your Outdoor space, your taste and fulfils your requirements. We can work with you to create the Outdoor Kitchens of your dreams.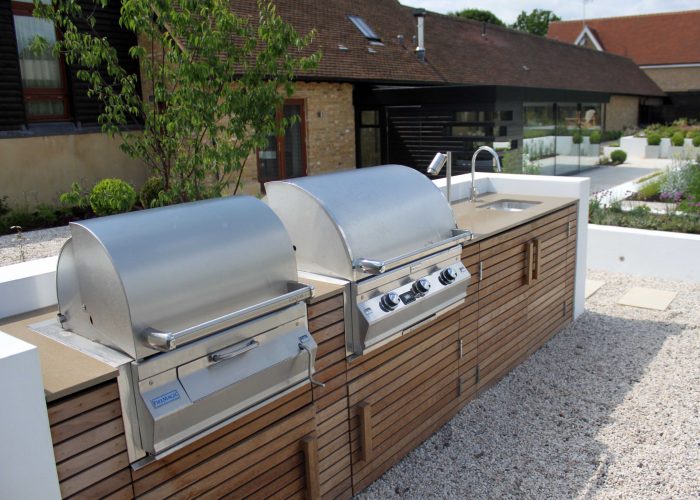 Benefits of an Outdoor Kitchen
Spend more time outdoors with a luxury Outdoor Kitchen. Gift yourself the luxury of stepping outdoors and wandering over to your Outdoor Kitchen to cook dinner for your loved ones or to begin preparing for a dinner party.
Extend your living space with an Outdoor Kitchen, for cooking, entertaining or spending time with your family. Available to use all year round with our state-of-the-art barbecues, components and Islands. Combine
Bring the family together outdoors to enjoy cooking together and dining al fresco, whether it's searing slabs of steak on sunny evenings or enjoying an array of breakfast from the grill, an Outdoor Kitchen is the perfect solution for bringing the family together.
Fire Magic Outdoor Kitchens
 Fire Magic is the perfect complement for an Outdoor Kitchen. Our collection of prestige barbecues and built-in components are expertly constructed out of the finest 304 stainless steel in California by passionate craftsmen and are designed for a lifetime of grilling.
Within our Fire Magic range, we offer everything that you need to enjoy preparing food, cooking and storing away our premium range of accessories. Our products are designed to withstand every season from high temperatures to snowy days to downpours, rest assured that your Fire Magic is guaranteed to last a lifetime.
Fire Magic Design Service
Our experience design team is on hand ready to assist with creating your dream Outdoor Kitchen. Whether you're looking for a large Outdoor Kitchen with multiple grills, built-in components and outdoor fridges or if you're interested in a straight Outdoor Kitchen with a grill and minimal extras.
Our free design service is available for all Fire Magic customers, and we can assist you at any stage of your project. This service is also available to landscapers, architects and garden designers who wish to incorporate Fire Magic into their designs.